Digital Strategy

Web Design

Web Development
Mortgage Brain
Website redesign for industry leading, software provider for the mortgage sector
Arrow icon to scroll to content
The Client
Mortgage Brain is a SaaS business supporting the mortgage sector with industry-leading software. Mortgage Brain provides time-saving solutions that shorten and simplify the end-to-end mortgage process.
Image of update website for mortgage brain
The Brief
Mortgage Brain approached Crucible with the exciting challenge of redesigning their website and revamping their digital identity. The team at Mortgage Brain were eager to bring new life to the website while simultaneously improving user experience and overall performance. The Mortgage Brain website was outdated and no longer catered to its technologically progressive audiences.
UX-focused Design
The UX of the site was a crucial component of the project. With several distinct user personas, designing a site that would effectively cater to all audiences was important. The Crucible team began with user research, defining set personas and user journeys. The design team could then produce user flows that would guide users to their goals seamlessly.
A key aspect of the UX was the redesign of the homepage and as a SaaS business, directing users through an effective user journey was of utmost importance. The Crucible team opted to segment the two distinct audiences and the products associated with them. This involved the reconstruction of the site navigation, aiding users to achieve their objectives seamlessly.
SEO
SEO was a key component to the success of the project. The Mortgage Brain team received a set of on-page recommendations through our partner Robotzebra designed to improve SEO that the Crucible team implemented on the new site. Alongside this, the Crucible team conducted a full site audit specifically geared towards SEO, including comprehensive keyword research. This was instrumental in the design of a content strategy that matched on-page SEO recommendations as well as the Mortgage Brain brand.
Digital Identity
Mortgage Brain were keen to revamp their digital identity by bringing in fresh and modern components to the site. The Crucible design team had the aim of incorporating as many aspects of the brand's identity into the new site as possible, but not overwhelm the user with too many distractions. The Crucible team faced a delicate balancing act, achieved through subtle movements and bespoke javascript.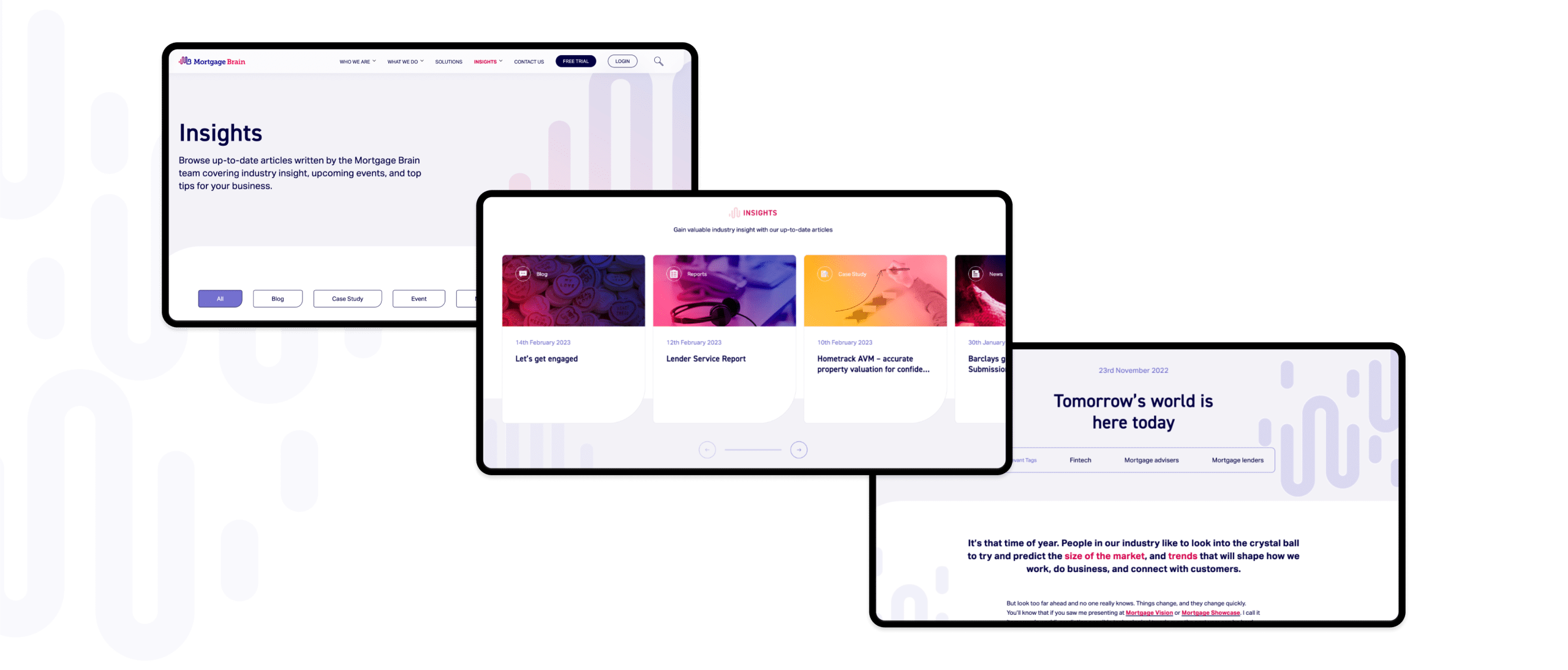 Technical Considerations
The Crucible team would usually recommend minimising heavy video and large image content to optimise performance. However, the team at Mortgage Brain were keen to incorporate videos and animations and this is where the Crucible development team encountered the challenge of incorporating a library of large files into a performance-driven site.
The Crucible team achieved success by optimising video and serving video content through a Content Delivery Network. To further combat performance loss, the development team compressed video files and loaded them using video.js, a third-party Javascript library that loads videos smoothly and works across all modern devices.
The Result
Mortgage Brain's investment in a new website has transformed the brand's digital identity and website UX. The website now accurately represents the brand's values and caters effectively to its distinct users. The addition of video and animation makes the website feel dynamic and modern without compromising the site's performance.
The Future
The Crucible team is proud to have partnered with a leading solutions provider for the mortgage sector. We look forward to an exciting future ahead. We are already in discussions to continue improving and optimising the Mortgage Brain website, including the integration of Dynamics CRM to enhance customer experience.
The team at Crucible are extremely talented and creative, they fully understood our pains and turned them into digital gains, delivering us an exciting new website that we are incredibly proud of.
Pollyanna Puddephat
Head of Marketing, Mortgage Brain