What makes a good higher education website?
6 factors to consider when designing a good higher education website
A university or college website is often the first point of contact with a higher education institution for prospective students, faculty, alumni and the general public. It's therefore essential that higher education websites are user-friendly, engaging, and accessible to a wide range of audiences and devices. However, designing a successful website for a higher education organisation – and one which meets the needs of all stakeholders – can be challenging. In this article, we run through the key elements and considerations that not only make a good higher education website but one that stands out.
1. Higher Education Websites need to Balance the Needs of Many Stakeholders
To be effective, higher education websites must be able to balance the diverse needs of their many stakeholders. Various stakeholders around the university will have unique requirements, from undergraduate admissions to alumni relations, from conferencing to catering. The many departments, offices and institutes within these large institutions each must be represented on the site. However, it's important to consider the overall goals of the website and prioritise a well-structured set of user journeys which cater to the essential interests of stakeholders.
💡 Your website's homepage won't be able to meet all the requirements of every stakeholder. So set out clear expectations early and prioritise stakeholder needs.
2. Focus on the Key Goal of the Institution
The primary goals of a higher education website will guide its overall design, development and content strategy. For institutions primarily focused on undergraduate study, student recruitment and admissions information are almost certain to be its key priority. By focusing on opportunities to engage with the institution as a 16 or 17-year-old – such as campus tours, student testimonials and stories, higher education establishments can ensure this box is well ticked. However, institutions with different objectives, such as engagement with current students, alumni fundraising or postgraduate study, will need to prioritise website journeys and user personas that align with these goals.
💡 Focus on the key goal by branding the institution through its messaging. Effective messaging is crucial in conveying the institution's core mission and identity.
3. Be a Source of Pride for Students and the Wider Community
Since the COVID-19 pandemic, the importance of a university's website as a virtual hub has grown significantly. Students, faculty and alumni have less physical contact with their institution than ever before. It's now common for Universities to host open days, assessments and lessons online. In fact, as of May 2023, Oxford University announced that admissions interviews will continue to stay online, breaking with hundreds of years of tradition. This dramatic shift to digital cements the importance of university websites as more students choose to study at universities they have never before visited – after all, they will still need to feel good about their decision. Because of this, there has been a growth in services in immersive 3D campus tours, like Matterport's 3D tour technology.
💡 Higher education websites need to be informative but they should also instil a sense of pride among students, faculty and the wider community.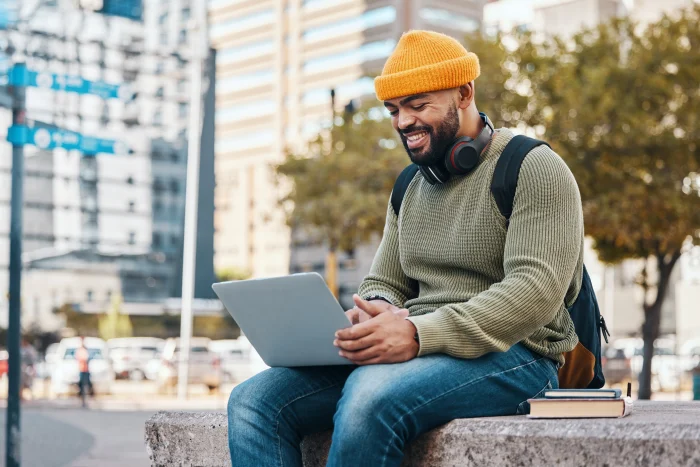 4. Encourage Return Visits
It's common for universities to rely on third-party systems and platforms that integrate into their websites. External systems are chosen to fulfil specific requirements, such as taking payments, booking events and managing housing or maintenance. To enhance user experience, and to position itself as a centralised platform for students and faculty, effective higher education websites will need to integrate external platforms seamlessly – or have these developed bespoke. By offering convenience, the website becomes a valuable resource that encourages returning visitors and increases engagement with both the website and the institution.
💡 Investing in digital transformation as a whole is critical for institutions to remain competitive and enhance the student experience.
5. Represent the Brand and Values of the Institution
Every University has its own unique brand identity and values that help it stand out. And to stand out in a sea of similarity, universities need to be able to convey their identity effectively. This can often involve hiring brand copywriters and consultants to develop engaging messaging that represents their brand. An excellent example of this is the use of storytelling on the Oriel College Oxford website, which presents a compelling narrative of its history, values and the student experience.
💡 Your higher education website should use clear and concise messaging that resonates with your institution's values.

6. Be Practical
An effective higher education website should look to aid the operational functions of the institution. Whether functioning as an intranet for staff or helping students find important information such as operating hours, accommodation, or study resources, the website should be able to become a digital space that users around the institution can keep coming back to and using to help manage their day-to-day lives.
💡 By offering advanced functionality, the website becomes an essential tool for the institution.
A successful and invaluable higher education website is a multifaceted tool that provides information but is also practical. It's important to consider the diverse needs of the many stakeholders while focusing on the institution's primary goals. Additionally, alongside a comprehensive digital strategy, a winning higher education website must represent the institution's brand and values.
Crucible is a digital agency that specialises in higher education web design and development. Our team are proud to have worked with leading institutions such as Churchill College, part of the University of Cambridge. If you have a higher education project and need some guidance, don't hesitate to get in touch.