How to Start a Web Design Project
Steps to starting a web design project
There's several areas to consider when starting a web design project and it can feel like a big challenge.
But be reassured that there's hundreds of website planning resources out there to help you. There are also web design agencies (like Crucible!) who would love to talk to you about your web design project and support you in its delivery. 
Understanding your business needs
When considering how to start a web design project, one of the first steps is to gather the website requirements from around your business. 
This is so you can understand what colleagues from around your organisation need and expect the website to do.
This information can include requirements such as:
The goals which different departments have for the website

Their key audiences

What types of content they would like to feature in the new website design
Why is this stage crucial?
It's crucial that this stage is completed thoroughly to ensure you have collected website requirements from across your organisation. 
If this isn't completed, there's a high risk that your finished website will not serve the needs of your company. Your colleagues may end up asking for immediate amends and unplanned changes after the launch.
Once you have gathered all this information, you should start to have a good idea of your key audiences and personas, the goals for the website, and the expectations and requirements for the website from around your business. 
This information will form the start of your project outline which you'll finish off with your website agency. 
Defining your goals
When starting a web design project, it's important to first take the time to clearly define your goals: 
What are you hoping to achieve with your new website?

How can you ensure your website is valuable to your target audience and drives conversions?

What were the barriers on your old website stopping you from achieving these goals? 
The research you've already completed to understand needs from around your business should help to gather some of these answers. But it's important to reflect on this information and ensure you have clear, measurable goals in place. 
Where can you find web design project support?
If you're not sure where to start, there are plenty of resources available online that can offer guidance on goal setting. 
The web design agency you work with will also be able to provide support in helping you to understand and define your goals, and support with any competitor analysis.  
It's important to take the time to figure out what you want to achieve. Then you'll be able to work with your web design agency to develop a realistic and achievable plan to make it happen.
Getting to know your audience
One of the key objectives of any website is to deliver a high-quality user experience, and that starts with understanding your audience. 
You'll need to do some research to figure out who your target users are, what their challenges look like and how you can help them to overcome these. 
Only by understanding your audience can you create a website and content that will resonate with them and provide them with the best user experience achievable.
To get started with your audience research, ask yourself these questions:
Who are our target users?

What are their demographics (age, gender, location, etc)?

What are their interests?

What are their needs?

What are their pain points?
These user personas can be built out in much more detail. But by answering these initial questions, you'll start to get an idea of who your target users are and what you'll need to do to engage them. 
Keep in mind that your audience may change over time. So it's important to continually update your research as your business evolves.
From time to time, you might even find that your services, or at least the ways in which you categorise them, need to change to serve new user groups.
Putting your audience first is fundamental in ensuring your web design project will be user-centric and have a user-focused approach. 
By understanding your users and delivering valuable content, you'll create a website that they'll keep coming back to. And one that will help you achieve your marketing and business goals. For example, see our article exploring the best high education websites and how they've considered their audiences to build winning websites.
Creating a project outline
When starting a web design project, creating a project outline is one of the key documents you'll need to complete. 
This can be worked on in collaboration with your website agency, or you might choose to use this as the basis of a brief with which to approach agencies.
The aim of this document is to clearly explain the goals and objectives of the project. The outline should include information about the target audience, the purpose of the website, and the desired outcomes. 
You should also include a budget and desired timeline for the project. By creating a detailed project outline, you can help to keep everyone involved on the same page and ensure key timings and milestones are reached.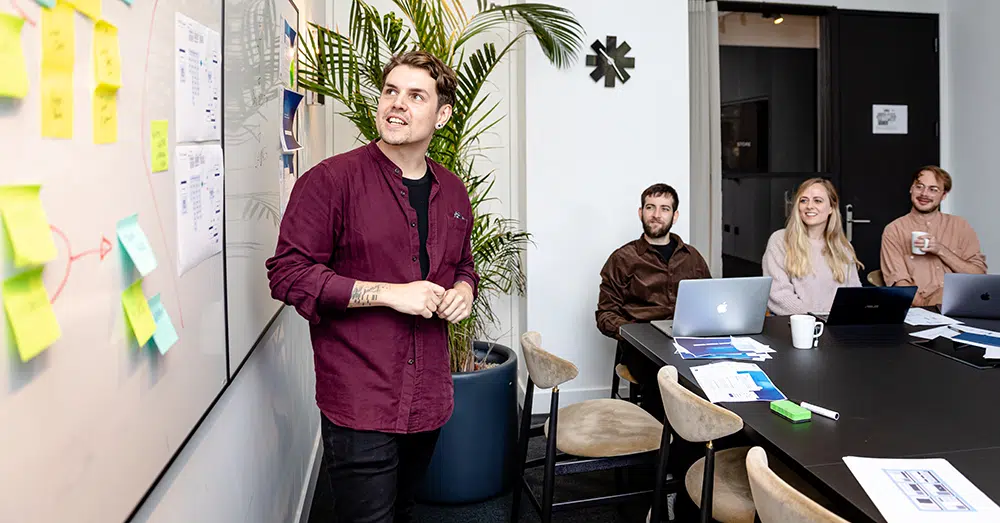 Working with a web design agency
When you're ready to start your web design project, you'll need to find a web design agency to work with. If you're still unsure if it's the right time, we've written an article on signs it might be time to outsource to a digital agency.
There are a few things to keep in mind when choosing an agency, such as their portfolio, their website redesign process, and their pricing. 
It's important to ensure you choose an agency who is able to deliver competitively for your sector. As well as an agency with a thorough, user-focused approach to the website redesign process. This will be key in making sure your project runs smoothly and successfully.
What steps should you take when choosing a website agency?  
The steps to choosing a website agency can vary, but there are some initial stages that you should be aware of. 
First, you'll need to provide a selection of agencies with some basic information about your project. 
This will include things like:
Your budget

Your timeline

Your goals for the project
Following this, the web design agencies you have been speaking to should create a proposal for your project. 
This proposal will outline the scope of work that they'll be doing, as well as their timeline and pricing. Once you've reviewed and approved the proposal, the agency can get to work on your project. We've written a useful guide on how to evaluate a web design proposal here.
During the web design process, it's crucial to stay in regular communication with your agency. We'd recommend weekly calls at least. This way, you can provide feedback and make sure that the project is on track to hit all your key milestones.
Planning guidance for website project success 
When starting a web design project, it's important to address the key project areas to ensure its success.
We've covered some of the fundamentals in this blog. But our content series – The B2B Website Planning Series – goes into much more detail.
Subscribe to the series for support, advice and guidance on how to plan your website project in an efficient and effective way.