Website Content Strategy
Website Planning
How To Create a Content Strategy For a Website
Creating remarkable website content is an essential step in website planning to ensure your site will be as successful as possible. 
But before you start reviewing your content and producing a website content strategy, there are some essential stages to complete first. 
Looking at these areas will ensure you have a detailed understanding of your market environment, your audience and the purpose your content is intending to serve. Read on to discover how to create a content strategy.
Firstly, what is a content strategy?
A website content strategy provides the direction for what content and where and when the content on your site will be delivered. It should serve as your starting point and foundation when building website content.
It should form part of a wider content creation strategy that encompasses all organic and paid content and advertising that your organisation releases.
Accessing useful content is one of the main reasons that users will visit your website before embarking on commercial buying journeys with you.
So it's crucial that any website redesign project has a user-first approach and considers what content will attract target audiences. 
Content can range hugely from blogs and whitepapers, to video and webinars. It's important to consider all content types in your web content strategy, while thinking about how your target audience prefers to consume content.
How to Develop a Content Strategy
1. Understand your business goals and market position
Far too often, content strategies are not aligned or connected to wider business and marketing goals. 
This is particularly common in larger organisations where it can be a challenge to get clear direction from senior stakeholders. 
It's important that some direction is given so that Marketing Managers can effectively approach content planning for their web content marketing. 
Having a clear idea of business priorities means that the website content strategy and business goals will be in alignment.
2. Conduct a website audit
Before producing your content creation strategy, it's essential to conduct a thorough content audit on your website. 
This is so you have a good understanding of what existing content you have on your site, and how it has performed to date. You can then decide on your online content strategy moving forward.
There could be multiple pages which are driving high volumes of traffic to your site and pages which are no longer serving a purpose. 
So it's important to dive into your analytics and use this data as a starting point from which to plan your content strategy.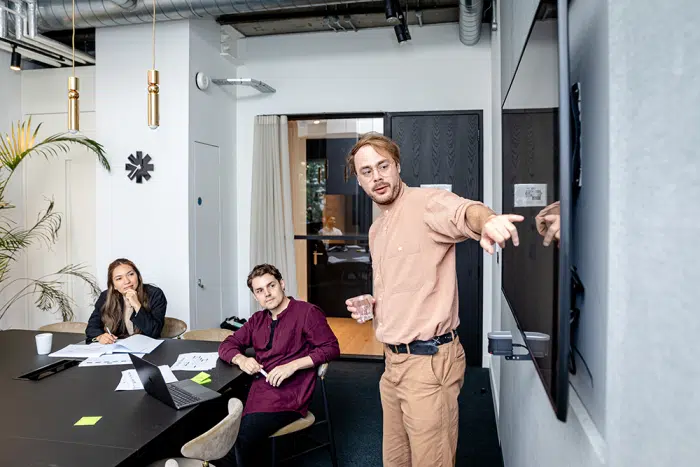 3. Scout out your competitors
Understanding how your competitors are approaching their website content is important for building your sector knowledge, as well as getting inspiration for what your content could look like. 
However, you should also make sure that you're not taking competitor approaches as gospel. 
For example, a competitor's decision to publish certain content will likely be linked to a business or SEO goal. And these goals may be different to yours. Even competitors in the same sector as you may have very different products to sell and requisite user needs.
So it's important to use competitor scanning as a research exercise to build your industry and competitor knowledge. Make sure you're not using competitor activity as a template for what your website content plan should look like.
4. Get to know your audience
Who are your target users and what keeps them up at night? 
What purpose is your content serving and what pain is it solving for your audience?
These are just some of the questions you need to be asking to ensure that the content you're creating will resonate with the target personas visiting your website.
It's often the case that Marketing Managers are put under pressure to publish content regularly. However, this can lead to content being produced without a clear picture of your audience and how the content will solve their pains and issues. In these cases, it's likely that time and resources will be wasted on content which doesn't address user needs, and doesn't generate meaningful website engagement either.
Why should you get to know your audience? 
Taking some time to get a detailed understanding of your target personas will ensure your website content strategy is user-focused. Through this approach, your content should enable you to ensure quality website engagement from your target audience. 
As well as understanding your audience, it's crucial to understand what will attract key personas to your website at different stages of the marketing funnel. 
This will be an important piece of research to do to inform how your website content will meet different user needs. 
Top of the funnel (TOFU): Attract 
If your target audience is at the top of the marketing funnel they may be a long way off from being ready to purchase your product or service.
At this stage your audience could be interested in reading a blog about current trends in your sector or content focused on predictions for the following year. 
Middle of the funnel (MOFU): Engage 
If your target personas are in the middle of the funnel, meaning they will soon be ready to make a purchase, the content they'll be searching for will be completely different. 
For example, your target persona could be a Finance Manager actively looking for a new finance and budgeting system. In this case, they would be searching for suppliers with case studies within their sector who demonstrated expertise and successful project delivery. 
It may seem obvious, but some companies who have produced case studies like this might well outperform more capable providers purely on the basis of the content being available.
Having an area for concise, impact-driven case studies and testimonials will help prospects, like this Finance Manager in the middle of the funnel, to feel reassured that your company would be a trusted business to partner with for their project. 
Bottom of the funnel (BOFU): Convert 
At the bottom of the funnel, your audience will be actively looking for quotes and ready to get in touch. This is a good opportunity to provide your audience with tools like RoI calculators as well as project resources. When they are ready, a clear contact form will also be essential in enabling them to get in touch with you easily.
5. Optimise your website content
An essential part of any robust website content creation strategy is ensuring your strategy is based on extensive keyword research, and optimised for SEO. Over time, this work will ensure your site and content is fully optimised. 
Optimising your website will mean that gradually, your web pages and content rank on search engines, and that your audience starts to find your website through organic search. 
Using website content audits and keyword research to build a content strategy
Using your website content audit results (which will show performance of web pages and content on search) you should have a clear picture of which pages need optimising and which are performing well. 
Doing keyword research at this stage using tools such as Moz or Semrush will give you insights on what keywords, phrases or new content your website would benefit from. 
After actioning these changes and ensuring your website content strategy is based on keyword research and insights, you should see an increase in traffic to your website and better engagement with your content.
6. Prioritise simplicity
When you've worked in a certain sector for a long time, the use of jargon in copywriting can creep up on you, as well as internal naming conventions that your clients and customers might not understand.
With this in mind, it's crucial to review any website copy and make sure the language is easy to understand for all your personas. 
In many cases, your target audiences will be time poor, and keen to understand your offering or complete an action on your website as quickly and easily as possible. 
Make sure you're helping them out as much as you can with jargon-free, simple language across your website content portfolio.
Need a hand with your strategy? 
Creating remarkable website content is no small feat, and takes time, thought and planning. 
But the investment and time spent on getting your website content strategy right is an essential piece of work to be successful in competitive and crowded markets. The saying 'content is king' holds true and it is rare that a well planned and executed content strategy fails to deliver RoI.
Website reviews are a significant piece of work and it can be a challenge to know where to start. So if you need support reviewing your website or help with developing a website content strategy from a leading digital agency, why not take advantage of our free website audit offer? 
Our website experts would love to hear from you and support you in improving your website's performance and help you create a solid content strategy plan. Alternatively, if you're ready to start planning, download our free website strategy template to help you plan your website project!