9 Steps to Website Project Success
In our recent webinar, we wanted to break down the 9 steps to website project success. Projects will vary and may require other moving parts but these steps will be essential in the vast majority of website projects. After reading this blog post, we're hopeful that you will have the:
Confidence to approach a website project using some best practice methods
Tips & tricks to ensure success across the project lifecycle for your organisation
Website specifics that might surprise you compared to other project types
Step 1: Understand your digital maturity
Check-in on your team's capacity
One marketer or a small team can only maintain so much content and so large a website. So it's crucial that you assess you and your team's capabilities. You can do this by looking at your availability and workload and then thinking about how adding a whole new channel to that would impact your daily work. Make sure you're realistic – it's better to have a small, tight, polished site than a big cluttered one.
Gauge your internal support
You will also need to look at what your company can support internally. If this is the first time the company has sold online, don't try to build it a huge international sales platform. You need to sound out where your management's thoughts are and promote change, but gradual change.
Validate small investments
Validating small investments before asking for larger ones will also be important in making the case for investment in digital. Analytics will be key as you'll need to demonstrate ROI throughout and ensure you have the data to show for it. Even showing a small amount of increase, as long as you're recording where it's come from, will help you get more budget.
Don't run before you can walk
Look at smaller, self contained campaigns aimed at showing limited ROI.
Actions to take:
Discuss with management a short, medium and long term website plan. Use general marketing goals (but make sure they're SMART) so you can demonstrate when you've achieved them.
Conduct a targeted gap analysis on your website in terms of what you want to achieve with your marketing. So, if you want to achieve a certain number of leads, look at where you'd want them to come from and what's missing from your conversion journey right now.
Install and configure Google Analytics if you haven't already. And if you haven't or aren't sure how to, send us a message. We will do this free of charge for you. It's that important.
Carry out an internal digital maturity assessment. Even if this is just for you to work from, it can help you to understand the type of progress you're likely to be able to make and what to ask for.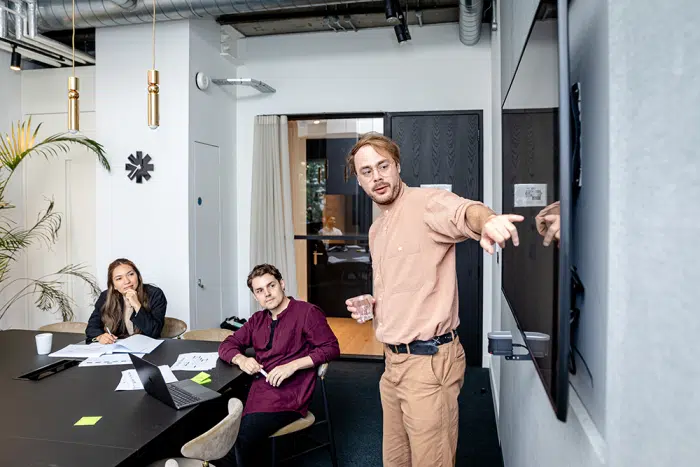 Step 2: Put your users first
Take yourself out of the equation – you are not your users
It's tempting to think about what your users want through the lens of your business. This is only natural and many organisations are prone to doing this. BUT it's essential to remember that they are not business owners.
Generate real personas based on real users
Hypothetical personas can be biased and have too much input from the person creating them. Personas need to be validated with data to ensure they are accurate.
Ask what the users need
Say you've had an idea for your website. Maybe because you've seen something similar on a competitor's website. Let's say, for example, you're a mortgage broker, and you've seen mortgage brokering calculators on a competitor's site, and you feel like you need the same. Well this might look like a nice idea, but how do you know whether users are actually using it? It's important to always think in a user-centric way and validate any ideas you have with thorough user testing.
Validate assumptions with real users
Use surveys, questionnaires, interviews and data from Google Analytics to make sure that you've interrogated all your assumptions and that they're accurate.
Actions to take:
Start building out your personas today. Decide who your personas are, and start gathering a detailed picture of them. Once you've done this you can then start to prioritise.
Base your brief on users' needs. When writing a brief, try to write it based on what each of these personas needs.
Think about journeys on your website and map these out. It doesn't need to be a full list, but you should think about what the most important journeys on the website are. Is it getting in touch with a support team? Is it finding a product? Downloading a whitepaper? Working these out will help your web design agency to understand the key priorities for your website.
Offer incentives to get feedback on your current website from your users. It's important to get as much feedback on your current website or set of products, so that the process can be guided by data, and be as scientific as possible. Amazon vouchers, raffles, free licences and free pizza and some of the popular ways to incentivise users.
Step 3: Get broad buy-in across your business
Involve many departments
Marketing might be the only department using the website, but they won't be the only ones that benefits from it. Your sales, customer service, finance, legal, and logistics teams will all be able to take advantage of the website. So it's important to understand their requirements and expectations for the website.
Talk to senior management
Senior leaders across different departments will have vested interests in the website. So you need to make sure you investigate thoroughly to understand who might want to have more involvement in the project.
Inspire ownership
Not just for day to day internal users, but for employees around your business. Remember that the website can be a point of pride for everyone in the organisation.
Hold requirements gathering sessions with a range of colleagues
Those who have been with you a long time might have seen the website project done before. And those who have been with you a short time will have seen other websites in other organisations recently. It will be useful to get opinions from both to get experience and fresh eyes on the project.
Actions to take:
Research your own business to make sure you understand what each department could need. Conduct thorough internal requirements gathering to ensure you have a detailed understanding of expectations around your business. One place to start could be researching competitors and seeing how certain departments are taking advantage of the website.
Speak to those departments, suggest features based on your research and ask if their users need such functionality. So, ask finance if they want to be able to generate a branded payment link. And ask IT if they might want to integrate the intranet with the website.
Approach your commercial/financial directors with a business case for investment across departments. A business case should present the projected profit and loss as well as the intended aims, objectives and justification for the site. It's important to note that you might not be the right person to lead the project. But you can certainly present the pros and cons and ensure your senior management is aware of the benefit of a website project.
Collate and understand these requirements and aim to balance business needs into one achievable brief. Not everyone will get what they want because no budget is endless (incidentally if you do have an endless budget please get in touch). So balancing different business goals to produce a cohesive brief will be essential.
Step 4: Prioritise documentation
Formalise the decision chain
This is often a big investment for senior business stakeholders, who quite often will not be completely present throughout the design process. It's important to have the decision chain formalised so that they can understand what decisions will, and have, been taken, and by who. And will give them confidence in the process from the beginning.
Version control
Often designs go through multiple iterations before getting to the final version. Version control will help you to understand what changes have been made, and to see the most recent version of designs.
Documenting for future stakeholders
What if you were to leave the business halfway through the project? Would the information be written down anywhere, or would it all be in your head. Keeping good documentation means that there aren't any issues with picking the project up, and avoids incurring extra costs for rework of discovery.
Organisational structure
Ensuring that responsibilities, and signoff dependencies, are clear, means that the project won't have any unexpected surprises down the line. You want to avoid a situation where a senior business member comes in at the end of the project and demands changes. Have a think about the organisational and team structures before you get started.
Actions to take:
Set an expected list of documentation from day one of a project. And make this part of any contract with an agency.
Be regimented with your own internal documentation. And encourage agencies to share theirs.
Prepare documents like a RAID log and RACI matrix. RAID (Risks, Assumptions, Issues, Dependences) logs and RACI (Responsible, Accountable, Consulted, Informed) documentation is essential to making sure you keep ahead during your website project. As well as these you should have a clear documented project plan.
Document naming and version conventions. Establish document naming conventions and version control from the outset of a project – there's nothing worse than having to change this halfway through.
Step 5: Choose the right CMS
Conduct wide CMS research
There's loads of resources online, so make sure you get a good understanding of the options available and what might work best for you.
Understand the pros and cons of different CMSes
If your research has narrowed it down but there's no clear answer, look directly at some comparison articles to see where different choices might have strengths and weaknesses.
Talk to multiple agencies and ask for recommendations
Agencies will have their preferred approaches and while you will have to choose an agency, you want to make sure they have a clear justification for using their CMS and that it will be the best solution to meet your business needs.
Talk to your internal and external network
Talking to people who have used different CMSes is important as you may find out relevant information about the CMS that could apply to your organisation. Having said this, you should take it with a pinch of salt as every build is different. You should also note that agencies will often provide CMS training so you shouldn't be left in the dark in this part of your project.
CMS overview
Please note that we only had time to cover a few key points from some of the most common CMSes during the webinar – there are many other CMSes which might suit your business needs.
WordPress
Powers over 40% of the web
Huge community of agencies
Development is affordable
Completely customisable
Capable of advanced functions
Drupal
Small but experienced set of agencies
More expensive to develop in
Powers government and enterprise websites
Considered the most secure CMS
Shopify
Strongest for eCommerce (though other CMSes can also run eCommerce)
Low barrier for entry but high capability
Strong UX
You'll have less control than you normally would over a CMS as you won't own the store/solution
Step 6: Work towards cohesion
Don't think that you can just design a website and that everything else will 'slot in'
Although it might seem like an odd thing to say, you should make sure that all your marketing collateral, including your website, looks like it's singing from the same hymn sheet. It's important to note that a website project is often a pandora's box, revealing other things that need updating. So be prepared for other projects to arise as well.
Aim to update your branding and collateral to match – preferably beforehand
Doing the website after is putting the cart before the horse. It's far better to work out who you are first, and then present yourselves on the web. Though it is possible to do an 'update' without making this a huge project.
Revisit your copy, messaging and service architecture
The verbal is often as important as the visual in conveying your value proposition and unique selling points. Often service architecture comes up during the discovery period of a website project, when clients realise that their old website sells products completely differently to how they are set up as an organisation. So it's crucial to make sure that these are all in alignment.
Prioritise your wider digital identity, not just the site's UI
Your digital identity will span across all the channels you operate on so it's important that this is considered holistically. If you choose just to focus on your website's UI, you risk having a lack of brand consistency across digital.
Actions to take:
Make sure you're working on the right project – is your brand still fit for purpose? If what you really need is a brand refresh it's always worth taking a step back to avoid wasted investment. It's essential that you make sure you're doing these business critical projects in the right order.
Educate stakeholders within the business on the importance of aligning brand and web. Leaders can be 'head in the sand' over this aspect of a website project until the site is so old it's an overwhelming task to start thinking about a project. The more you can do to educate your stakeholders, the better.
Put together a business case, including a SWOT analysis for a rebrand. Like we've mentioned previously, the best way to convince your stakeholders is to show a clear analysis and justification that shows how you've considered the pros and cons.
Don't forget step one – recognise where you are and what you're ready for. If the appetite just isn't there, don't push it. Do the website and bide your time.
Step 7: Put UX before UI
Ask how well it works for users
Your users are the people generating revenue for your organisation, so they're the most important group to listen to when it comes to feedback.
Science over the art
There's no denying that the art of websites is important. But it's not as important as the key KPIs for the site. And these will only be met if the science has been the foundation of your website project. Rather than decisions being made based on a few stakeholder's subjective preferences, it's important that every decision made for your new website is based on science and data.
Everyone has a different creative vision
And some voices will necessarily be more vocal than others. However, it's worth bearing in mind that there are often only one or two ways of achieving a strong user experience. And these are ones which allow users to do what they need to do.
Manage stakeholder expectations
The design phase of a website project takes time. And designing in a UX focused way means that it will be a while before your project team sees anything in colour. Educate them as to why this approach is stronger and the importance of designing for the web in this way.
Actions to take:
Prioritise a UX-first approach. And encourage your stakeholders to think UX first. For example, encourage them to think about user journeys before colours and brand expressions. You'll need their buy-in which is why your second action should be…
Internal exercises. Plan some exercises to get stakeholders to buy into a UX-first approach. Get some post-its up on the wall, grouping themes, grouping products and plotting journeys to conversion. Interactive workshops like these tend to be a really good place to start to get buy-in from key stakeholders.
Assess agencies on how well their websites work, not how flashy they are. Don't look at the screenshots which agencies will include in their case studies, look at the websites. This will help you to interrogate the agency's work and check that they deliver the high quality websites that they say they do.
Personas first – look and feel second. You should guide the process that you expect from agencies from the way that you engage them in the first place. Make sure you craft a brief which will give you the responses you expect.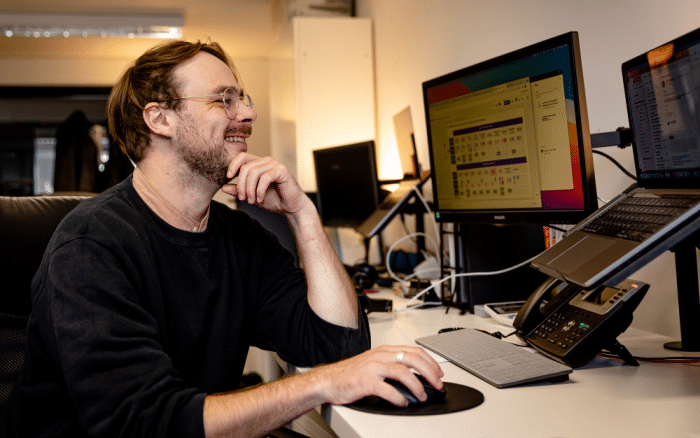 Step 8: Plan your approach to content carefully
Allow enough time
Content is more often than not the biggest drain on your team's time, and never takes less time than expected. It's important that resources are aligned early on in the project and also that you talk to your agency to ensure all parties are clear on who's doing what and when.
Decide on a high level approach to content early in the process
This could be ripping up the text content and starting again, or simply replicating content early on in the process. Making this decision will give you and your agency the right amount of freedom, and should be based on realistic expectations of resources to commit.
Discuss your approach with your agency
You will need to discuss with your agency the divisions of responsibility. There are a lot of different jobs, and your agency will be able to help you with most, if not all of them. Amongst many other questions around website content, you will need to decide who's writing the content? Who will be responsible for imagery or finding stock photography? If the agency or your team will be uploading the content? And who will be uploading meta-information? Decide early on, so that you can be sure that the right resource is aligned.
Your options for approaching website content: The 5 R's
Replicate
Replicating your content will mean that the content on your existing site is pretty much perfect (which just to note is almost never the case). You may have certain pieces of content which are relatively new or already optimised, so it's important that these are copied over to your new site with no changes made.
Redeploy
You should choose to redeploy your content when it's already performing well, but might benefit from being in a different place on the site. Doing this and adjusting the URL structure may mean that additional SEO changes are required.
Restructure
Restructuring your content does much like it says on the tin. You'll have paragraphs and chunks of content that read well, but they would probably benefit from becoming new articles, posts and pages. There's not much 'writing' involved in this approach, but it is a very involved process of working out what should go where.
Rewrite
Choosing to rewrite your content will mean that most of your existing website content is largely not fit for purpose. But with it being required on the new site for business or SEO reasons, will need some fairly extensive attention in order to make it as strong as it needs to be for your new site. You should be prepared for this to be a fairly lengthy and time consuming process.
Remove
Removing content will mean that it is not fit for purpose and you no longer have any need for it. It may be inaccurate or inappropriate, or no longer fitting your business model.
Actions to take:
Assess by word count for a finger-in-the-air estimate. Your estimate doesn't have to be spot on, but you should think about how long it will take to write 100 words, 500 words and 1,000 words. You can then assign t-shirt sizes to the website content work, and create a list of large, medium and small jobs.
Divide your existing content into Replicate, Redeploy, Restructure, Rewrite, Remove. Dividing your content into the five Rs will ensure you have a view of which content needs fully rewriting as opposed to restructuring and will help you to prioritise tasks. You should prioritise the content which needs rewriting and following that, the other content buckets. But if you run out of time, the content in your redeploy bucket is probably okay to launch with (with a view to subsequent optimisation).
Put together a week-by-week plan. Put together a week-by-week plan and aim to be complete a few weeks before launch in line with your agency. There's going to be time required at the end of the project for testing, so you shouldn't have content finished at the same time as launch.
Read our article on website content migration! It's pretty comprehensive in terms of what you need to consider and how to plan this essential stage of your website project.
Step 9: Consider the short, medium and long term
Your website needs to serve you now first and foremost – consider the immediate activities
There's no point in planning for immediate moonshots if you are only just starting smaller campaigns.
In the medium term, think about what budget you need to achieve your goals
Think about where you want to push in the medium term and what some sensible goals are here. These can then be on both your and your manager's radar so you know what you're working towards.
Work towards a scalable architecture and plan of action
You want the website you're putting together to serve you for at least the next couple of years. So don't build a website now that won't scale with you. If you're unsure what this means in practice, speak to your agency who should be able to ensure your new site will support your growth.
Think about the longer term
Longer term, what are the key customer experience tools that could add serious value to you as a digital business? There are many different tools you could consider, for example, a customer login, document upload, customer service portal, self service CRM. These are some of things you could start to think about for your business in the longer term.
What could your short, medium and long term look like?
Just to note that the below is a list of examples – these goals will vary hugely from organisation to organisation!
Short Term
Get the website live
Make use of landing pages
Set up analytics goals
Release some gated thought leadership content
Run some PPC campaigns
Medium Term
Broaden service architecture and write content for these pages
Work on on-page SEO by expanding the site's blog content
Work on developing some leadgen tools e.g. cost calculator
Onboard wider team to use new site functions
Long Term
Build out customer portal for customer access to bills and documents
Integrate customer portal with CRM for automations
Integrate much wider marketing automations
Actions to take:
Lay out a plan of your immediate marketing strategy. And work out how your website figures into your strategy. More specifically, you should try to work out how your SMART marketing objectives feed into your website goals.
Lay out a 12 and 36 month plan with marketing activities to your agency. This means they can build your new site knowing what you'll need to do in the short-medium term, and where you would hope to take the site in the much longer term.
Be flexible in your planning and consult users at all times before building big new features. Remember that any plans can change if you're an agile business. Talk to your users and ensure they want what you are planning before you build it.
Discuss a roadmap with your agency and write down a monthly checklist of activities to achieve it. You won't achieve what you want to in the short, medium and long term if you don't make yourself accountable and give yourself weekly tasks in order to achieve it.
So there it is! The 9 steps to website project success. There's a lot to consider when approaching a website project, but by working with your agency to ensure you've addressed these 9 steps you should ensure you've covered some of the most important areas in a website project.
In our latest resource, we've gone into even more detail on website projects, including what each stage of a project should look like and what should be included within those stages. Download your copy below!