WCAG 2.2: What does it mean?
WCAG 2.2
As of August 2023, the much anticipated WCAG 2.2 standards were released. But what does it mean? 
The new version features a selection of new criteria along with updates to existing recommendations. In this blog, we break down the WCAG 2.2 updates in simple terms and we've also included examples.
For anyone new to WCAG, the acronym stands for the Web Content Accessibility Guidelines. It is a set of recommendations that help make the web more accessible to people with disabilities. The WCAG is broken down into three conformance levels of which websites can be compliant; A, AA and AAA. Websites don't necessarily need to be compliant with WCAG standards, however, for public sector, healthcare, and education industries, meeting WCAG 2.2 requirements is expected.
Conformance Levels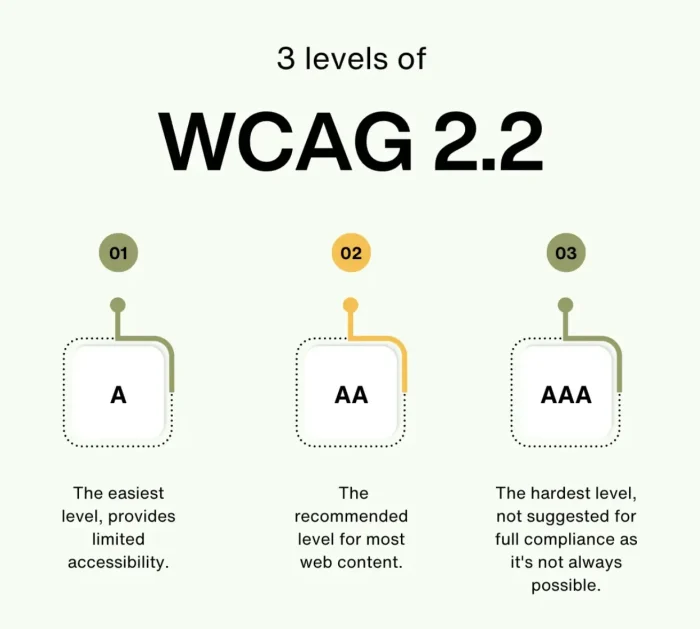 WCAG Level A – Basic Accessibility 
The lowest level of compliance (A), includes success criteria essential for every website and provides limited accessibility features. If a website doesn't conform with WCAG Level A, it risks serious accessibility issues that can prevent users with disabilities from using the site. 
WCAG Level AA – Strong Accessibility 
Many organisations strive to meet WCAG Level AA as it includes the most common disability barriers and covers the basic accessibility features found in Level A. At Level AA, websites are considered to be accessible to most users. 
WCAG Level AAA – Excellent Accessibility 
Reaching Level AAA is the most difficult to achieve, however, at this level, websites are considered accessible to the greatest number of users. This level requires the most comprehensive level of testing and design to meet WCAG requirements. 
Focus Appearance: 2.4.13
Keyboard users navigate through a webpage by using the 'tab' key which enables the ability to jump from one element to another. Focus indicators help to identify the element the user is currently on. The updated WCAG 2.2 has outlined a set of success criteria that help keyboard users easily spot focus indicators. They should be at least 2px thick and have a minimum contrast ratio of 3:1.  
Focus Not Obscured
2.4.11 Minimum requirement (AA): 
For keyboard users, when tabbing to a focusable element, it should be at least partially visible and never covered by another element, for example, a sticky image.
2.4.12 Enhanced (AAA): 
To meet a higher level of accessibility compliance, the focusable element should be fully visible to avoid any scrolling whatsoever. 
Dragging Movements: 2.5.7
The Level AA success criteria for dragging movements requires websites to provide an alternative means for the dragging movement which is static, such as clicking. Users who are browsing websites via a specialised device, such as a trackball or speech-controlled mouse, will have limited ability to make dragging movements. 
Target Size
The WCAG 2.2 standards for target size is to support users with hand tremors or difficulties with motor movements. Ensuring space between clickable elements reduces the chance of accidentally clicking the wrong elements. 
2.5.8 Minimum Requirement (AA) 
The target size for clickable elements should be at least 24px by 24px, except for clickable links within a sentence.
2.5.5 Enhanced (AAA) 
The target size for clickable elements is at least 44px by 44px, except for clickable links within a sentence. 
Consistent Help 3.2.6
The Consistent Help (A) requirement enables users to easily find help for completing tasks on a website when it is available. Success criteria for consistent help is to ensure that all help mechanisms (chatbots, contact information, FAQs, contact form) all occur in the same order on every page. Note that this is only a requirement if help has been offered; there is no requirement for websites to provide help. 
Redundant Entry 3.3.7
The new redundant entry (A) requirement helps reduce strain for users with cognitive or motor disabilities. To meet the requirement, previously entered information that is required to be entered again, must be auto-populated or selected (ie. in the form of a checkbox). 
Accessible Authentication
To improve accessibility for sites where a user is required to log in, accessible authentication allows users to copy & paste their login details or use third-party password managers to automatically fill out their login details. 
3.3.8 Minimum Requirement (AA) 
To meet the minimum requirements, another authentication method that does not rely on remembering a password or username must be provided. For example, this can include third-party password managers that have the ability to automatically fill out login details. 
3.3.9 Enhanced (AAA)
To meet the enhanced requirements, sites must adhere to the minimum requirements in 3.3.8 and must also remove CAPTCHAs and user-uploaded pictures. 
What does this mean for you?
In the UK, public sector bodies must comply with accessibility requirements. As a legal requirement, public sector organisations will need to ensure their websites meet the success criteria for WCAG 2.2 by early 2024. The UK's governmental website has released guidance and support for organisations looking to update their websites in line with WCAG 2.2.
If you require assistance or guidance with the new accessibility requirements, we'd be more than happy to help! Crucible is the UK's leading digital agency specialising in web design and development. Our team are expert at designing for accessibility and we'd love to help!